Stacy Westfall confronts Guy McLean in the barns during Equine Affaire, MA 2013.
Stacy's complaint is that Guy is signing his name too big on items (in this case a cell phone) and not leaving enough room for Stacy's signature.
Lol, this just proves that some clinicians have too much fun behind the scenes!
To tease Guy about this, visit his website www.guymcleanusatour.com or his Facebook , oh, tell him Stacy sent you!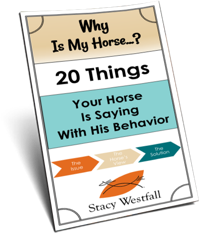 FREE PDF DOWNLOAD
WHY IS MY HORSE...?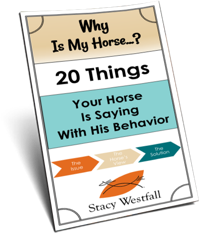 Free PDF Download "Why is my horse...20 things your horse is saying with his behavior"
PDF will be delivered to the email address you enter as will weekly tips from Stacy. Totally free. Unsubscribe anytime.