Yep, we went to Australia! And on top of that I agreed to do a freestyle on a horse I had only met…the day before the performance. This just goes to prove there are great horses all over the place.  Meet Blaze, in his owners words:
About Blaze "Tell Me A Story" is currently ranked the 8th highest money earning horse ever in Australia (see attached list) with life time earnings of $30,458.80. This makes him the third highest earning gelding ever.
This is a great achievement given the prize money on feature classes in his derby and futurity years has increased substantially from 1999 to the present. Out of the top 10 horses, Blaze is the 5th highest still competing at the top level, being the 3rd highest gelding. Notably, these figures do not include his international winnings when he competed in NZ for a number of years, and hence is the only top horse that has competed in international competition.
Perhaps his greatest achievement is that 10 years after his 2nd place in the Australian open futurity he went on to win the 2009 Australian open non pro, and just recently placed 1st in 2011 Australian prime time non pro. This shows that at the age of 16 he is still competing and winning at the top non pro level and shows no signs of slowing down. This is exemplified in Blaze being the oldest top earning money horse in Australia still competing.
Blaze is the only horse in the top 8 which has allowed the ability of a beginner rider and open non pro rider to compete on the horse in the same show years with great success, showing not only his versatility, but his true honestly and ability to not only compete with the very best but to be quiet and well trained enough to allow a novice rider to compete.
From these statistics above, he would arguably be one of the best horses ever in Australia if measured by his talent, consistency and longevity, and overall open and non pro levels.
Warm regards,
Shelley Peters
Thanks again Shelly for allowing Blaze to work with me while I was in Australia. Thanks Greg for all of your help, and thanks to Rob and Lisa for showing us the 'real' Australia.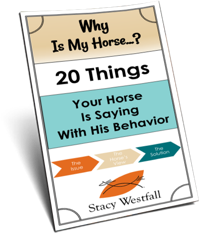 FREE PDF DOWNLOAD
WHY IS MY HORSE...?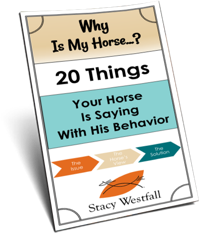 Free PDF Download "Why is my horse...20 things your horse is saying with his behavior"
PDF will be delivered to the email address you enter as will weekly tips from Stacy. Totally free. Unsubscribe anytime.