"Hi Stacy! Just wanted to share a little bit of success with you. I have written about my difficult mare a few times. After some thought, discussion with other horsey friends, and careful planning, I have reworked a regimen for my girl. She is in boot camp now and seems to be responding superbly! In just two days she has pretty well mastered a new skill of ground driving, and I have started the mounting process. I never thought I would get this far with her, especially this fast. But she really seems to be responding to it. Yesterday I reviewed everything she already knows, and added ground driving. Today she acted like she had been driving for weeks, so I put the saddle on and started stepping up. I even sat on her for a few seconds. So excited!- Nikki H."
Nikki! I am so excited for you because I can tell by just reading your note to me that YOU GET IT! Let me tell you how I know:
You have been asking questions. I do remember that you have written before. Searching shows that you are fully engaged and you are taking responsibility for the outcome.
You asked other friends; there is wisdom in asking people who know you and your horse. They will often be able to shed light on areas you may not see because you are so wrapped up in everything. Horsey friends for horsey problems are great!
You made a plan which puts you ahead of most.
You are reviewing the things that she knows. This is SO important because it makes the training more solid and can help you find 'holes' in the training, things that the horse didn't really get solid on before you moved on. Review gives the chance to make things solid.
Congratulations Nikki! I am so glad that I was part of this learning process. The steps you are taking show that you have what Emmie had…and that is truly a complement.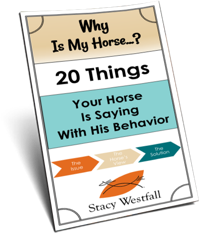 FREE PDF DOWNLOAD
WHY IS MY HORSE...?
No one taught you the skills you need to work through these things.
Riders often encounter self-doubt, fear, anxiety, frustration, and other challenging emotions at the barn. The emotions coursing through your body can add clarity, or can make your cues indistinguishable for your horse.
Learning these skills and begin communicating clearly with your horse.
Click here to learn more.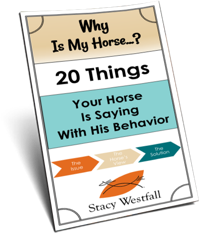 Free PDF Download "Why is my horse...20 things your horse is saying with his behavior"
PDF will be delivered to the email address you enter as will weekly tips from Stacy. Totally free. Unsubscribe anytime.