Last year on June 16 we were dealing with our first snake bit horse. You may remember the blog, complete with photos, documenting the whole process. As Hope, the horse that was bitten, was hanging her head out of the stall yesterday I snapped this photo and decided to do a follow up. I laugh when I see her because she has an innocent look…and a slightly crooked nose!
The only two signs she still has are 1) an altered growth ring on her hoof 2) a crooked nose.
The ring will be grown out soon but the nose…I'm not sure if it will ever be straight. Either way she is still cute!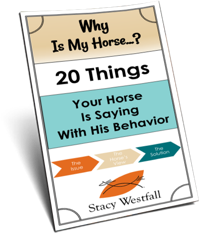 FREE PDF DOWNLOAD
WHY IS MY HORSE...?
No one taught you the skills you need to work through these things.
Riders often encounter self-doubt, fear, anxiety, frustration, and other challenging emotions at the barn. The emotions coursing through your body can add clarity, or can make your cues indistinguishable for your horse.
Learning these skills and begin communicating clearly with your horse.
Click here to learn more.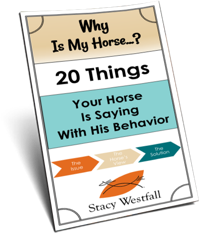 Free PDF Download "Why is my horse...20 things your horse is saying with his behavior"
PDF will be delivered to the email address you enter as will weekly tips from Stacy. Totally free. Unsubscribe anytime.