What are your horses strengths?
How much influence can training have on movement?
What is the judge looking for in the event?
How to they consider the movement, the training and the degree of difficulty?
How much can you influence these as a rider/trainer?
I have established that I can show my horses and achieve solid scores in western dressage, traditional dressage and ranch riding. I know that to move into reining, competitively, I would need to focus specifically on that.
My question to myself is, "Should I stay general across all these disciplines…or should I pick one aim to achieve excellence?"
I'm going to ponder my horses strengths, training level and re-evaluate my goals for the year. The Western Dressage World Show is still my long term goal. The question is…do I keep playing around with multiple disciplines or do I focus for awhile on one over another?
I'll let you know my decision…once I decide!
In 2019 I plan on showing two of my horses in Western Dressage with the goal of showing at the Western Dressage World show in October.
Along the way, I am also training and showing in traditional dressage , reining and ranch riding with my quarter horses.
I'm going to be sharing my journey so anyone who is interested can learn along with me.
#ponypower
#AQHA
#westerndressage #WDAA
#lifelonglearner
#ponypower
#dressagepony
#Ranch riding
#westerndressage
#ICanCanI
#WeaverLeather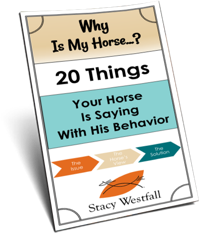 FREE PDF DOWNLOAD
WHY IS MY HORSE...?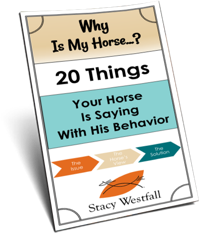 Free PDF Download "Why is my horse...20 things your horse is saying with his behavior"
PDF will be delivered to the email address you enter as will weekly tips from Stacy. Totally free. Unsubscribe anytime.