By the time I take horses to expos with me, I take for granted that everyone knows who they are. For me, I have been working with them so long that they feel like part of the family.
Take Newt for instance. I call him Nephew Newt because his mother is a full sister to Roxy. Newt was born at my house….I was the one who ripped the sac off his nose and first said hello to him. So you can see how, now that he is four, that it feels like everyone should know him because he has been with me his whole life.
Newt is the horse I was ridding when I recited the poem at the Weaver Leather Freestyle Reining in October of this year.
He is also the horse that I have brought to Equine Affaire in MA to use in most of my demos and he keeps an eye on Jac….or at least he keeps Jac entertained!
Newt is actually Jac's cousin, as their mothers were sister.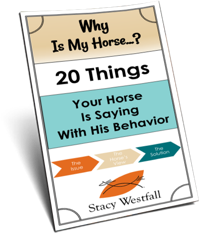 FREE PDF DOWNLOAD
WHY IS MY HORSE...?
No one taught you the skills you need to work through these things.
Riders often encounter self-doubt, fear, anxiety, frustration, and other challenging emotions at the barn. The emotions coursing through your body can add clarity, or can make your cues indistinguishable for your horse.
Learning these skills and begin communicating clearly with your horse.
Click here to learn more.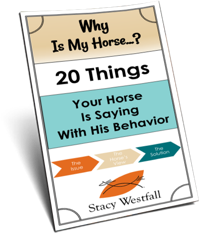 Free PDF Download "Why is my horse...20 things your horse is saying with his behavior"
PDF will be delivered to the email address you enter as will weekly tips from Stacy. Totally free. Unsubscribe anytime.