I had to share this because it has improved my life! This is a great way to feed round bales of hay to horses without having all the wasted hay. Before we started using it our horses would stop a bunch of hay into the ground as they attempted to find the best piece of hay. Then they would use it as bedding.
This giant feeder is made of a tarp like material and is elastic on the top. As you can see the horses munch out of the top and as the bale shrinks the bag collapses.
I was unsure of how I would feel about it when it was empty but after seeing it in use…and having my horses move it around, I am comfortable that they will not be injured on it. Nope, I'm not being paid a dime to advertise these and I actually SPENT my money and went back and bought two more! Just thought it could help someone else save money on hay too.
I bought my bale buddies here, best $99.00 I spent recently!
Painted Cowgirl Tack
29 Main Street
Greenwich, OH  44837
WINTER STORE HOURS:
Tuesday – Saturday
11am to 6pm
419-752-3090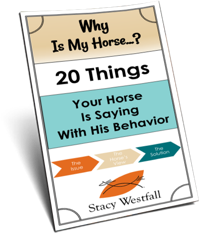 FREE PDF DOWNLOAD
WHY IS MY HORSE...?
No one taught you the skills you need to work through these things.
Riders often encounter self-doubt, fear, anxiety, frustration, and other challenging emotions at the barn. The emotions coursing through your body can add clarity, or can make your cues indistinguishable for your horse.
Learning these skills and begin communicating clearly with your horse.
Click here to learn more.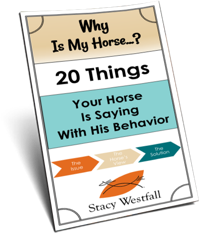 Free PDF Download "Why is my horse...20 things your horse is saying with his behavior"
PDF will be delivered to the email address you enter as will weekly tips from Stacy. Totally free. Unsubscribe anytime.