Episode 7 & 8 were both filmed on day four of training. Day three Jac had 1 hour and 20 minutes of training at
the beginning, day four he has 1 hour and 50 minutes of training at the beginning. That means that day three Stacy worked Jac for 30 minutes.
Things are getting more refined; look at how focused Jac is on reading Stacy's body language.
Episode 7
Can you see the difference between Jac asking a question (this episode) vs Jac declaring where he stands (episode 3)?
Can you see how, if the handler missed the questions being asked, the horse would stop asking questions?
Why would disengaging Jac's hip on the 'off-side' improve him?
Episode 8
In the beginning of this episode Stacy says, "That's not great but its kind of functional." Do you accept answers that are close to right when training your horse? Can you see how that is 'planting a seed'?
Are you subtle with your cues…even if you don't think you will get the correct response? Can you see how being subtle and then backing it up allows them the chance to read subtle cues?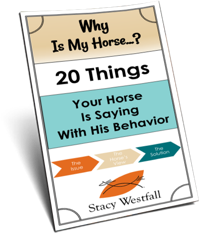 FREE PDF DOWNLOAD
WHY IS MY HORSE...?
No one taught you the skills you need to work through these things.
Riders often encounter self-doubt, fear, anxiety, frustration, and other challenging emotions at the barn. The emotions coursing through your body can add clarity, or can make your cues indistinguishable for your horse.
Learning these skills and begin communicating clearly with your horse.
Click here to learn more.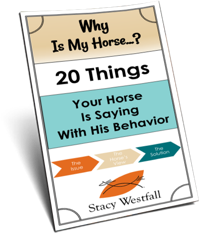 Free PDF Download "Why is my horse...20 things your horse is saying with his behavior"
PDF will be delivered to the email address you enter as will weekly tips from Stacy. Totally free. Unsubscribe anytime.