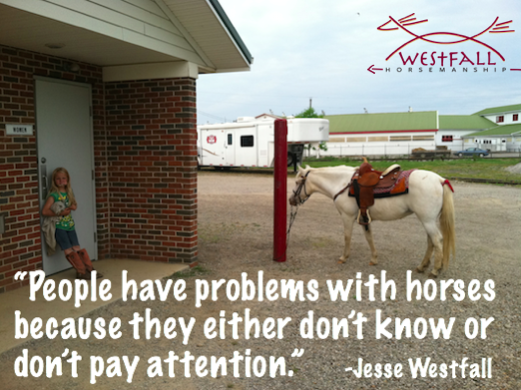 My husband, Jesse, was giving a lesson one day and I heard him say, "People have problems with horses because they either don't know or don't pay attention." I quickly wrote it down and made a mental note to find a photo that would match it. There is so much truth in the statement. I don't know anyone who chooses to have problems with horse. Most problems are caused because the human didn't know;
didn't know that running home every day would cause a horse who would run away
didn't know that catching horses only to work them often ends in a horse who avoids being caught
didn't know that rides either add to or subtract from the horses training…and a horse can be 'untrained' as well as trained
Sometimes 'not knowing' also is a lack of seeing the 'cause and effect' which is part of the learning process. Someone paying attention would begin to notice when:
the horse begins to anticipate running home
the horse begins to avoid being caught
the horse is declining in training
Many things like rearing can be prevented or stopped if you can see the beginning…the head tossing, the refusal to go forward. Inexperience often causes people to miss these smaller signs. People who succeed with horses often:
ride with other experts-take a lesson, etc
watch videos of themselves riding to improve themselves
reflect on mistakes they have made and make a plan to improve
Everyone makes mistakes…but not everyone learns from them. Be one who learns.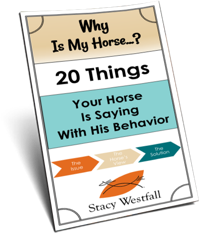 FREE PDF DOWNLOAD
WHY IS MY HORSE...?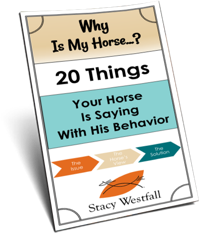 Free PDF Download "Why is my horse...20 things your horse is saying with his behavior"
PDF will be delivered to the email address you enter as will weekly tips from Stacy. Totally free. Unsubscribe anytime.