Who thinks living on the road with no permanent home while toting along three boys (homeschooling) and a bunch of horses is a good idea?
The Westfall's do!
And as of today our house is officially SOLD!
First stop, after considerable packing, is Texas! (…or the looney bin, I will keep you posted on my sanity during this process)
What is your New Years Resolution?
no·mad  (nõ′mâd′)

n.

1. A member of a group of people who have no fixed home and move according to the seasons from place to place in search of food, water, and grazing land.

2. A person with no fixed residence who roams about; a wanderer.
---
[French nomade, from Latin nomas, nomad-, from Greek nomas, wandering in search of pasture; see nem- in Indo-European roots.]
---
no·mad′ic adj.
no·mad′i·cal·ly adv.
no′mad′ism n.
The American Heritage® Dictionary of the English Language, Fourth Edition copyright ©2000 by Houghton Mifflin Company. Updated in 2009. Published by Houghton Mifflin Company. All rights reserved.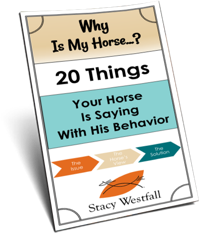 FREE PDF DOWNLOAD
WHY IS MY HORSE...?
Free PDF Download "Where is my horse...?"
20 things your horse is saying with his behavior.