"I'm having an issue today. I need help if you find a moment. I have 7 horses turned out together. They have ALL lived together for at least a year. Today, I blanketed two if them due to incoming inclement weather. One has a cold and the other was clipped and hasn't re-grown his coat as well as we hoped. My problem is, the non-blanketed horses are attacking the two with blankets. Not a little either. They are full out ATTACKING. Pawing, rearing biting, kicking . It's rough. What can I do?"-Patti C.
Horses have an interesting way of viewing things…don't they? The easiest and quickest suggestion is to separate them for now. Depending on your set up you could pasture them in view of each other which will also allow the non-blanketed horses to adjust to seeing their friends wearing blankets.
Once things calm down a bit you can also do some retraining. Be creative and remember to stay safe. Retraining could take many forms including: a shared fence line to let the horses adjust, stalling blanketed and non-blanketed near each other, tying the aggressive horses and allowing the other horses to move around, the list can get longer depending on how creative you are and what type of set up you have to work with. The following comment is from another blog about horses that were aggressive during group feeding. Listen to how Ashley B. solved her problem: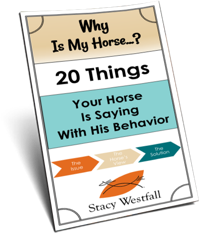 FREE PDF DOWNLOAD
WHY IS MY HORSE...?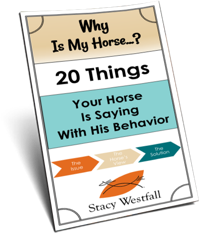 Free PDF Download "Why is my horse...20 things your horse is saying with his behavior"
PDF will be delivered to the email address you enter as will weekly tips from Stacy. Totally free. Unsubscribe anytime.