This is a short video done at Equitana in Australia last November. It is kind of funny because the horse is having a little fun with me.
Here is another link for more reading
http://horsezone.com.au/news/equitana-stacy-westfall-horsemanship-clinic-1836/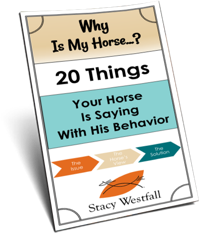 FREE PDF DOWNLOAD
WHY IS MY HORSE...?
Free PDF Download "Where is my horse...?"
20 things your horse is saying with his behavior.