Are the horses shrinking or the boys growing?!?
I know it has been awhile but the empty stall from the spring has been amazingly hard to get past. So I decided it was time to have some fun. My son Joshua also wanted one….soooo…..
But even little horses need to work around here. Our friends, Randy, Julie and their boys Preston and Paxton brought over the roping dummy that Randy and Preston built. The boys took turns dragging it but then they suggested a mini. Little Denmark got his turn and although he has not been hooked to a cart yet he handled the dummy quite well. That is Preston in the photo swinging the rope. By the time I get around to buying a cart Denmark should be quite ready!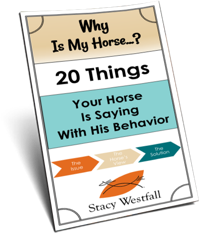 FREE PDF DOWNLOAD
WHY IS MY HORSE...?
No one taught you the skills you need to work through these things.
Riders often encounter self-doubt, fear, anxiety, frustration, and other challenging emotions at the barn. The emotions coursing through your body can add clarity, or can make your cues indistinguishable for your horse.
Learning these skills and begin communicating clearly with your horse.
Click here to learn more.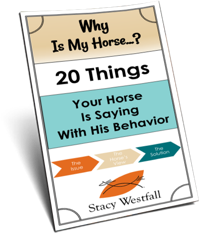 Free PDF Download "Why is my horse...20 things your horse is saying with his behavior"
PDF will be delivered to the email address you enter as will weekly tips from Stacy. Totally free. Unsubscribe anytime.