Last night while watching the finals of the reining futurity at the All American Quarter Horse Congress I had fun listening to the crowd. I decided to video the reining…but with the emphasis on how the crowd sounded.
Can you identify the maneuver based on the cheering? Watch the video and see if you can guess what the crowd is cheering for…then watch to see if you were correct.
What is your favorite cheer? Whoops, woos or whistles? What other cheers can you identify?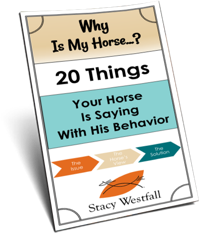 FREE PDF DOWNLOAD
WHY IS MY HORSE...?
No one taught you the skills you need to work through these things.
Riders often encounter self-doubt, fear, anxiety, frustration, and other challenging emotions at the barn. The emotions coursing through your body can add clarity, or can make your cues indistinguishable for your horse.
Learning these skills and begin communicating clearly with your horse.
Click here to learn more.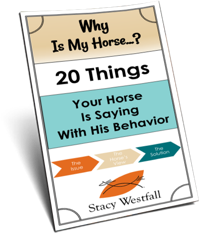 Free PDF Download "Why is my horse...20 things your horse is saying with his behavior"
PDF will be delivered to the email address you enter as will weekly tips from Stacy. Totally free. Unsubscribe anytime.