I hauled horses from Texas to Ohio for a customer and decided that it would be fun to go to a horse show while we were here. My son, Joshua, came along to
show his horse too. Horse shows are full of emotional ups and downs and tons of learning opportunities.
Everyone has worked hard to be here and although there will be only one class winner it is still possible to view the experience as a success if you were able to learn from it.
While talking with a friend at the show he asked me what I liked about showing. In my sleep deprived state I decided that, at least for today, what I like best about showing is NOT all of the work. It is the results. Not the results of the class but rather the end result.
Eating healthy is done for the results…not because it tastes better or is easier but because because the results of being healthy are worth it.
Exercise is done for the results…not because it is easier or more enjoyable than other activities.
I have learned how to take the pressure of showing and use it to shape my relationship with my horse. I would never have been able to achieve the relationship I did with Hailey, or Roxy or Vaquero if it hadn't been for showing them.
Much like eating right or exercise the results aren't always instant and sometimes it is hard to believe that this hard work is leading somewhere. But I have seen the results before and I am willing to put in more (almost) sleepless night to get there again.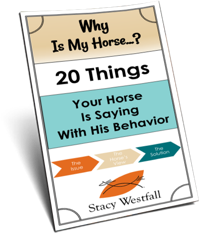 FREE PDF DOWNLOAD
WHY IS MY HORSE...?
No one taught you the skills you need to work through these things.
Riders often encounter self-doubt, fear, anxiety, frustration, and other challenging emotions at the barn. The emotions coursing through your body can add clarity, or can make your cues indistinguishable for your horse.
Learning these skills and begin communicating clearly with your horse.
Click here to learn more.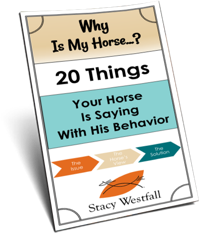 Free PDF Download "Why is my horse...20 things your horse is saying with his behavior"
PDF will be delivered to the email address you enter as will weekly tips from Stacy. Totally free. Unsubscribe anytime.