During one of the Weaver Leather promos people were supposed to leave a comment on the Facebook page. One of the comments that made me laugh was:
What gives you so much determination? -Michelle L
I don't really know the answer. I do know that some people call it determination, while others call it stubbornness….
I also know that I can see it in some people…but it doesn't appear to be in every person.
I just spent the last few days at a horse show and there were definitely other determined people there.
What do you think makes someone determined? Is it an internal drive or an external drive in your opinion?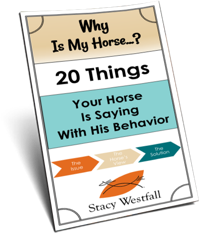 FREE PDF DOWNLOAD
WHY IS MY HORSE...?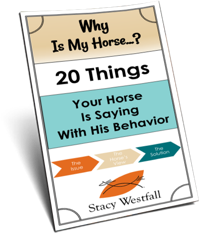 Free PDF Download "Why is my horse...20 things your horse is saying with his behavior"
PDF will be delivered to the email address you enter as will weekly tips from Stacy. Totally free. Unsubscribe anytime.