As the holidays approach and we, the slightly older crowd, reflect on the past it brings to mind some interesting questions. Does technology help or hurt?
I know that I have recently posted about remembering a loved, and now gone, horse-asking how you remembered yours. I know that I personally went on a small quest to find video footage of the long past rides we had shared…even if it was just a short clip from a friend at a show. My Mom reminisced that she only has one photo that is any good of the horse she had while I was growing up.
But as I tell my kids stories, even just the silly day to day stories of things that I saw happen in the barn, I notice how they light up. Sure I could have captured the moment with my iPhone when Scrapper and Twinky were biting each other in a game of who could annoy who more…but would it have really captured the moment? Or as I laugh and  get excited about trying to recreate this for my children do I bring more to the table than the iPhone?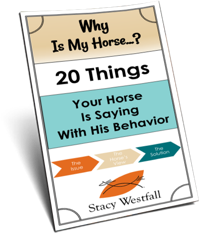 FREE PDF DOWNLOAD
WHY IS MY HORSE...?
No one taught you the skills you need to work through these things.
Riders often encounter self-doubt, fear, anxiety, frustration, and other challenging emotions at the barn. The emotions coursing through your body can add clarity, or can make your cues indistinguishable for your horse.
Learning these skills and begin communicating clearly with your horse.
Click here to learn more.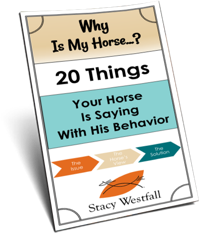 Free PDF Download "Why is my horse...20 things your horse is saying with his behavior"
PDF will be delivered to the email address you enter as will weekly tips from Stacy. Totally free. Unsubscribe anytime.