I have just retired my mare who was born, trained, and raised til she was two by Jack Brainard. I did a little reining with her but mostly barrels. I'm now currently looking for a young barrel racer! I have looked online since that is the best way for me to search. Out here in Virginia there really isn't much hope for it being "horse country". So going to shows and finding a horse its more than likely that the horse has had several owners and there's a reason for selling him/her other than "not riding enough" or "its too much of an expense". I've looked online at a couple of ranch breeders and have gotten in touch with them. They have told me there is no such thing as a barrel horse….they are consider performance horses. And that if the horse is bred with good bloodlines and good background for performance then they are able to do anything. Does that sound correct? I can kinda see where that might be true because of my mare that was trained to do cutting and reining but since she had the speed and the quick changing of direction she was able to do the barrels and was blowing every horse out the dust! I would love to know your opinion and maybe that will give me an idea of what direction I should take.
Melinda, 
I don't know that anyone is exactly 'wrong' here. I suspect if you talked with a barrel breeder they would say there was such a thing as a barrel bred horse. Having said that what you say is also true. I would pick a well trained horse with a brain and modify from there over one with specific bloodlines. For me the order is more like this: 
train-ability 

athletic ability

training

breeding
A breeder may move 'breeding' to the top. A trainer may move 'training' to the top. I am a person who is capable of doing my own training so I don't put training as high. If I were recommending an order for a first time horse owner it would look more like this: 
training

train-ability

athletic ability (probably how sound is it in this case)

and I would tell them breeding doesn't matter
If someone were looking for a show prospect, at a weanling, yearling or un-started horse it might be:  
breeding (as a predictor of success)

train-ability (limited ability to see this depending on amount of handling)

athletic ability (watching them turned loose)

training
These lists are not complete but I hope it helps you see how the thought process changes given the people involved and the goals that are set.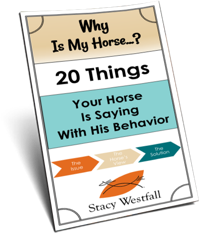 FREE PDF DOWNLOAD
WHY IS MY HORSE...?
No one taught you the skills you need to work through these things.
Riders often encounter self-doubt, fear, anxiety, frustration, and other challenging emotions at the barn. The emotions coursing through your body can add clarity, or can make your cues indistinguishable for your horse.
Learning these skills and begin communicating clearly with your horse.
Click here to learn more.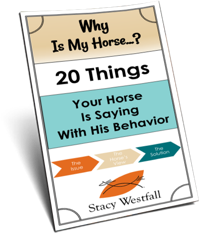 Free PDF Download "Why is my horse...20 things your horse is saying with his behavior"
PDF will be delivered to the email address you enter as will weekly tips from Stacy. Totally free. Unsubscribe anytime.