"Stacy, I have a mare I started last fall and she is a little cold backed. Would the rope exercise have shown or helped that problem? Have you had this issue with a colt before?"
Usually the rope exercise will help. I do so much groundwork that I haven't run into this problem with horses I have started. I have had it with horses that were brought to me. The exercises will help it; in some horses it goes away, in others it improves. Prevention seems to be key.
Watch again how much preparation/prevention goes into Jac's training.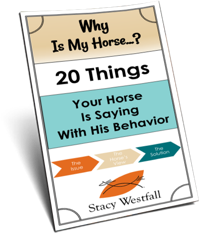 FREE PDF DOWNLOAD
WHY IS MY HORSE...?
No one taught you the skills you need to work through these things.
Riders often encounter self-doubt, fear, anxiety, frustration, and other challenging emotions at the barn. The emotions coursing through your body can add clarity, or can make your cues indistinguishable for your horse.
Learning these skills and begin communicating clearly with your horse.
Click here to learn more.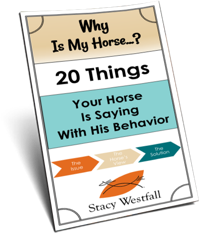 Free PDF Download "Why is my horse...20 things your horse is saying with his behavior"
PDF will be delivered to the email address you enter as will weekly tips from Stacy. Totally free. Unsubscribe anytime.