This was originally posted in 2016…I'm healthy and fine…but still trying to let people know that we don't live in Texas (see the bottom of this post for more on that:)
———————-
I'm simultaneously excited and exhausted. Excited because I'm finally making my big announcement in this blog (give me a minute) and exhausted because- the cold I caught in April turned into something resistant to amoxicillin- and then became pneumonia. Ok, but now for the big news….
We are building a new place!
After selling our home, indoor and barn back in 2014 and 'wandering' for the last two years we have bought land and we are settling down again. And building everything from scratch. 
You may be wondering, "So how did you decide where to buy land after wandering the country?" 
Years ago, when we lived in Mount Gilead, if we wanted to go trail riding we would haul our horses to Mohican State Park for the day. Some of you who attended clinics at our place will remember the group of us hauling up to Mohican on the last day of our clinics. We have loved riding there for years.
For fun Jesse and I would drive around the outskirts of the state park land dreaming of living near the trails. Once when we were riding at the park we noticed a group of people riding who had obviously paid to ride for the day (the sneakers, shorts, and guide gave them away) and we followed them home. 
On the back side of the park was a horse property that gave guided trail rides on the park. "Wouldn't that be an amazing location?" we said. But we were newly married, had small children had just bought our first house and were totally broke. But a couple can dream, right?
Over the years we still rode at the park. Just a couple years after discovering this horse rental property it went up for sale. We were still broke. It sold. Life went on. But every time we were in the area we still drove by. Still dreamed. 
Last year before we flew to Germany we went on another trail ride at Mohican. You might remember watching the video that I posted. But this time things got a little more strange. 
We were trail riding that day with a lady that we met when she attended a clinic several years ago. As we rode down the trail I told her the story about following the riders back to the property that bordered the park. Told her how it had sold years before but that we still drove by it, in fact we had just driven by it last week. Then I asked her, "Do you know the place?" And she replied, 
"Yes, I own it."
I was shocked. I made sure we were talking about the same place and she was. I told her, "Jesse's never going to believe this." He was surprised too and then he asked, "What are you going to do with it?" To which she responded, "I don't know, maybe sell it to you guys if you still want it."
Seriously?
The land that we wanted over a decade ago was now being offered to us. We didn't even have to talk about it. 
Yes! We would love it!
Some people might call it a coincidence but I call it a God-incidence. 
What are our plans? Build a large indoor, a house and rv hookups. Hold clinics again at our place where you're invited to join us but this time, this time we won't have to haul to the trails…we can just ride straight out onto them!
(Below is a video of the trails out our backdoor!)
Update: April 3, 2019
Just four days ago someone visiting us remarked, "Yeah, I thought you lived in Texas. I was surprised when Byron said he was taking lessons at your place."
Texas.
I loved you Texas…but that few months we lived there has been 'branded' into peoples minds, lol!
I'm still amazed at how this all worked out. Five years ago Jesse and I sold our house…with no plans on where we were going to live. We had three teenage boys eight horses (and a couple minis). The first place we went was Texas because a friend had just built a very large covered arena with an attached apartment. We left our house of 14 years on February 14, 2014.
After a few months in Texas we moved into a motorhome and then traveled the country, homeschooling three teens, towing a horse trailer and blogging every day. It was quite an adventure!
When we left Ohio we had no idea where we would end up. During our adventure we were heavily leaning toward Arizona or Colorado…but apparently God had other plans.
We live here in Ohio in our little cabin on a hill.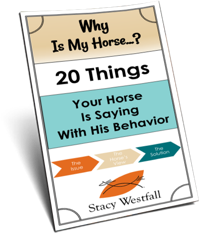 FREE PDF DOWNLOAD
WHY IS MY HORSE...?
No one taught you the skills you need to work through these things.
Riders often encounter self-doubt, fear, anxiety, frustration, and other challenging emotions at the barn. The emotions coursing through your body can add clarity, or can make your cues indistinguishable for your horse.
Learning these skills and begin communicating clearly with your horse.
Click here to learn more.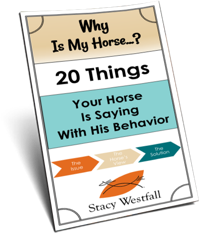 Free PDF Download "Why is my horse...20 things your horse is saying with his behavior"
PDF will be delivered to the email address you enter as will weekly tips from Stacy. Totally free. Unsubscribe anytime.