I had the opportunity to speak to the students in the Equine Program at the University of Findlay last week. Many, if not all, of them are planning on a career of some sort involving horses. Years ago when I was a student there things were pretty much the same including the desire of many to become horse trainers.
The students were great, asked lots of questions and I found myself repeating one phrase frequently:
"Training horses is a lifestyle."-Stacy Westfall
In many ways this can be seen as the perfect choice if you love horses. For others the reality of what it also means can come as a shock when you begin to
live it.
Training and riding the horses is the fun part but, remember, I said it was a lifestyle. This isn't casual anymore. A lifestyle means that you will be 'living' this job choice in many cases seven days a week, 365 days a year.
Here is a photo of the Thanksgiving meal that we had in our motor home today. We are headed to Oklahoma City for the NRHA Futurity show that starts tomorrow. I have had the privilege of attending this show as a spectator and as a participant.  Horses showing in the Futurity began arriving two days ago. The show is always scheduled for this time of year and they even host an annual Thanksgiving Dinner right there at the fairgrounds. Unfortunately we left later than we had hoped to yesterday and won't arrive until after the meal is over…hence the meal in the motorhome.
Giving up a traditional Thanksgiving, or at least modifying it, is just one example of this career path being a lifestyle choice. Even if you choose to skip showing there will still be the every day, twice a day, minimum need to feed and care for the horses that have been trusted to you. It isn't a typical 40 hour per week job you can walk away from easily on your days off.
Most jobs involve some kind of lifestyle choice but some require more than others. Embracing this knowledge makes it easier to see a career choice from a different angle…as a lifestyle.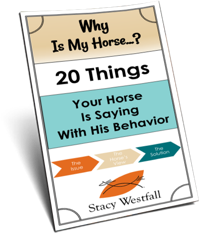 FREE PDF DOWNLOAD
WHY IS MY HORSE...?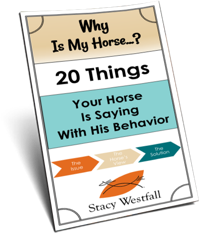 Free PDF Download "Why is my horse...20 things your horse is saying with his behavior"
PDF will be delivered to the email address you enter as will weekly tips from Stacy. Totally free. Unsubscribe anytime.