I recently rescued a 7 yr old Arab mare that was pretty green. The handling that had been done with her wasn't a positive so she has some fear issues. I have all of your DVD's and am wondering how to deal with a specific issue. I realize you are very busy and I would understand if you aren't able to answer. When lunging on the ground, when I ask her to reverse directions, the will rear up and then walk off. How can I stop the rearing? Thank you for taking the time to read this : ) God Bless
_____________________________________________________________________________________
Here are two ideas.
1) do the reverse more often and at higher speed (trotting, reversing every 2 circles etc)
2) video tape the problem and send me a youtube copy and I can be more specific for you.
Ride with Faith,
Stacy Westfall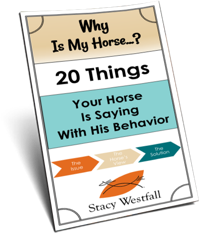 FREE PDF DOWNLOAD
WHY IS MY HORSE...?
Free PDF Download "Where is my horse...?"
20 things your horse is saying with his behavior.