I really hope that when you watch these videos you keep in mind that they are for lots more than just trailer loading. The training contained is key to having a well trained, well rounded horse. Watch the body language Snoop is using and try to figure out what he is saying. Remember that even when I am talking to YOU, Snoop is talking to me.
Watch after I ask him to back up. I comment that he wants to come forward. Why do you think that is? What do you think he is anticipating? Where is he trying to go?
I am training him even when I am not talking directly about it. Did you see that he didn't understand how to move his hip but picked it up pretty quickly? Also watch how I just taught him that new 'word' and now I begin to use it in our 'everyday' conversations.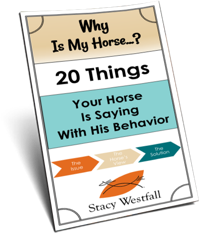 FREE PDF DOWNLOAD
WHY IS MY HORSE...?
Free PDF Download "Where is my horse...?"
20 things your horse is saying with his behavior.