"Hey Stacy, I have a quick question for you. Video taping rides or lessons is a common tool for amateur horsemen (and women). With as much experience as you have, do you still feel like you learn from watching yourself on video? Do you still see things in the video that you didn't notice in the moment?"
Short answer: Yes.
Video remains one of my favorite types of feedback. My top three favorite feedback methods are; video, instruction, and mirrors. Each one has its own strengths and weakness. The reason for using them also changes as the rider matures. Early on a rider often needs more feedback on their body position etc. For a more experienced rider the feedback is often for learning to 'feel' what the horse looks like. For example, a horse that performs a sliding stop in a different style than a rider is accustom to may still 'look' good doing it, even if it feels not so good to the rider. In that case a bridge can be build for the rider to know what it 'feels vs looks' like by using video or instruction.
Having mirrors on the wall in the arena is excellent for instant feedback. The limitations come when you are riding outside of the view of the mirror. Installing them around an entire arena would be costly and…not available outside.
Instruction is great because the coach (my husband in my case) can tell me in 'real time' what something looks like. The difficulty is finding a coach who you trust. Often a coach will also use video to back up what they are telling the student in real time.
Video is a must for me when I show. Knowing that I will be able to see what happened after gives me the freedom of not trying to remember the ride as I am performing it. To be a great showman you must be able to leave the trainer/judge part of you at the gate. That is where the video comes in. After my ride the trainer/judge in me wants to see the run so I can analyze it.
It is not unusual for my husband and I to take turns video taping each other for short clips at home. We mostly do this so we can 'feel' what it looks like, as mentioned above. In show season we may do this during the week before a show or anytime of year if something feels particularly good….or particularly strange.
Feedback, feedback, feedback-yes, yes, yes. I think video is beneficial for people of all experience levels.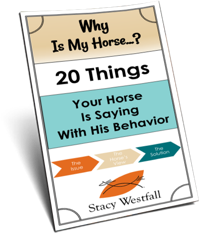 FREE PDF DOWNLOAD
WHY IS MY HORSE...?
No one taught you the skills you need to work through these things.
Riders often encounter self-doubt, fear, anxiety, frustration, and other challenging emotions at the barn. The emotions coursing through your body can add clarity, or can make your cues indistinguishable for your horse.
Learning these skills and begin communicating clearly with your horse.
Click here to learn more.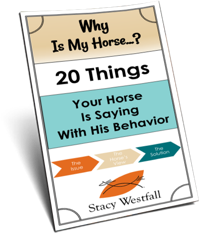 Free PDF Download "Why is my horse...20 things your horse is saying with his behavior"
PDF will be delivered to the email address you enter as will weekly tips from Stacy. Totally free. Unsubscribe anytime.