I will try to keep the story short, lol. Popcorn came from The Road to the Horse competition. He was the horse 
that I won it with in 2006. On the first day it looked like they should never have invited me….I was waaaaayyyyy behind! But I knew I was laying the foundation. I decided that I should buy the horse that I was working with…to see how the fast and unusual (5,000+ people, etc) training affected him. No one had ever bought the colt they had trained before that. Now its the norm;)
I bought him Saturday night when it still looked like I didn't stand a chance (which was good for the purchase price, lol).
Back in my hotel room I called my mom, who was in the same hotel, and told her that I wanted to name the colt I was working with. (I left out the part where I had bought him…thought she would enjoy the surprise with everyone else the next day.) My mom is great at naming animals but all we had to go on was the ranch he was from, the Cornielus Ranch. Mom said, "Well, 'Corney' is obvious…but, we both laughed, out of the question. She thought a minute and said, "How about Popcorn?"
"Perfect!"
And we both went to bed.
The next day during the competition I told Rick Lamb, the MC, that I had named my horse. Rick Lamb repeated it and asked me a few questions (you need to picture that all four clinicians are working during this, me included)….and I said, "Yeah, I name all the horse I buy." Everyone was shocked that I had bought him.
As soon as Rick gets done talking with me about the horse I bought (remember, it had never been done so it was a big deal) Craig Cameron interrupts Rick and says something to the effect of, "Hey Rick! Did you just say she bought that horse and named it Popcorn?"
Rick said, "That's right Craig."
Craigs response, "It's tough to compete against a woman!"
Popcorn went on with me to earn his AQHA ROM…the first RTTH horse to do that.
Popcorn was made into a Breyer Horse.
Popcorn stars in my book, Smart Start.
Popcorn is in his forever home:)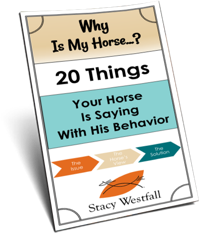 FREE PDF DOWNLOAD
WHY IS MY HORSE...?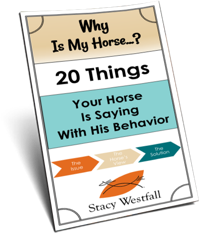 Free PDF Download "Why is my horse...20 things your horse is saying with his behavior"
PDF will be delivered to the email address you enter as will weekly tips from Stacy. Totally free. Unsubscribe anytime.