Dear Quarter Pony rider,
In regards to your request, via electronic media, and I quote: "Can you help me tame this wild horse?" please take note of the following riding infractions:
1) you are not wearing a helmet
2) no heel on your boot, correction, no boot
3) unsafe riding surface-too much concussion on horse…and potentially rider
4) your balance seems to be off…Is that your purse over your shoulder? That could be the cause….
5) most riders struggle with 'looking down' too much but you seem to be an exception to this….please, look down a bit more! Because….Heaven help us all…….
YOU SEEM TO BE RIDING IN A PUBLIC AREA!!!!!  But if all else fails, have someone unplug your steed.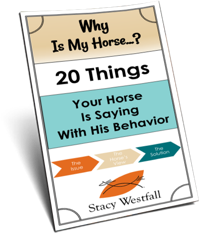 FREE PDF DOWNLOAD
WHY IS MY HORSE...?
No one taught you the skills you need to work through these things.
Riders often encounter self-doubt, fear, anxiety, frustration, and other challenging emotions at the barn. The emotions coursing through your body can add clarity, or can make your cues indistinguishable for your horse.
Learning these skills and begin communicating clearly with your horse.
Click here to learn more.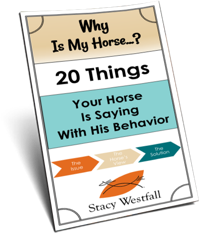 Free PDF Download "Why is my horse...20 things your horse is saying with his behavior"
PDF will be delivered to the email address you enter as will weekly tips from Stacy. Totally free. Unsubscribe anytime.