"Hi Stacy, again a very interesting podcast. I love how you break it down into parts. This makes is much easier to understand. I have a 4-year-old stallion in training, who was really disrespectful when I first started. Very pushy, using his shoulders to run right through me, not respecting my space at all. The owner had to use a whip when walking with him and they corrected him by using that whip. I have been working with him for a couple of months and he is doing very good… He is backing out of my space nicely, moving his shoulders and hips when I ask him to and he comes of pressure quite nicely. I´m pretty happy with the progress he has made in this time. But… he keeps on biting. Biting me, biting the rope, biting the fence. When he is backing up he tries to bite me, when I put on the halter he bites. Basically, whenever he can reach me, he bites. I tried your chicking wings, but he doesn't care. It hurts me more then it hurts him. I tried a chain when I walk with him and tie him up, but again he doesn't care. He keeps on biting the chain. I did make his feet move whenever he bites, but now he bites and starts lunging himself right away. Kind of like a kid grounding himself. The owner would hit hem whenever he would bite her. Now it is a game to him. Is he fast enough to bite us before we hit him? ( I don't hit him. Let that be clear) The biting isn't aggressive but it is a 'playfull stallion behavior'. But he is weighing around 600KG ( he is nog a quarter horse) And I don't like to play and be bitten by a stallion who weighs that much. All the other groundwork he is doing fine, but I feel that the biting issues is one of the things keeping us from graduating to college. Any suggestions on how to fix this? PS: His teeth were checked as well and all fine." Samantha
Thanks for the question, Samantha. Here are a few thoughts on the subject.
Habits and hormones.
Stallions with a very high drive to bite are a challenge with no easy answer. If they are corrected early on during all human interactions it can be slightly easier but the ones that choose to be mouthy, choose that as an expression of their desires. I have had amazing stallions that were very well behaved, decent stallions that were behaved most of the time and stallions that were always pushing the boundaries.
Good to Great.
When I trained for the public I dealt with all of them but as my business grew and my knowledge grew I started making different choices. In college (I went to an equine college) the vet had a saying, "A good stallion makes a great gelding". He was noting that there was an improvement in some way when gelded.
Trainability vs performance…or both?
What does the industry value? In the reining industry, the stallions must be both athletic and highly trainable. Reining horses are required to reach a higher level of training than say a racehorse. Because of this, the horses are being bred to be both athletic and trainable. There are more and more stallions in the reining industry that are very trainable and easy to be around because of this. In other industries, the performance outweighs the level of 'trainability'. This isn't to say that a racehorse isn't trainable but it does acknowledge that the ability to race fast is more highly prized. What is the goal with this stallion?
To Geld or not to Geld.
What is the long term plan for this horse? This is a conversation worth having with the owner. As a trainer, you don't have the full say of what happens with the horse but you do have control of which horses you decide to train. You must decide what level of correction you are willing to use…but remember that the stallion might 'ask' for more. Think about the fights that stallions have with each other in the wild. Some will really turn up the pressure.
In my world, my answer would be to geld him. I know this because when Newt was just turning two he started getting mouthy. He had always played with other horses using his mouth but he started doing it more and more to people. The distraction in his mind that was driving this behavior would have also caused distractions in other areas of training. I gelded him. I chose it early because I didn't want his hormones to create other bad habits and I knew the distraction level was going to change the training and require me to be harder on him. Gelding him took away the desire to bite and made his life around humans and other horses easier.
There are other industries that may overlook the behavior for other qualities but I'm only going to speak from what I have seen. Twenty plus years later I agree even more with the wise old vet from my college years. A good stallion makes a GREAT gelding.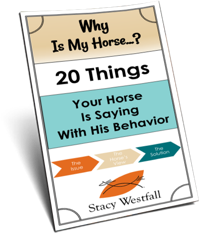 FREE PDF DOWNLOAD
WHY IS MY HORSE...?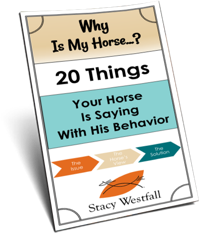 Free PDF Download "Why is my horse...20 things your horse is saying with his behavior"
PDF will be delivered to the email address you enter as will weekly tips from Stacy. Totally free. Unsubscribe anytime.