I try not to watch all the little videos that pop up on YouTube after you finish watching a video. I might have to change my stance on this though.
There are times I want to talk about subjects but I struggle to figure out how to video the 'mistakes' being made….as I have no desire to make them myself. I guess that might be where I can look to YouTube for answers.
Take this video for example. My curiosity makes me wonder who uploaded it? It has no description…
Anyway. It is a great video of a horse who invades the handlers space. I remember when I was growing up that it was 'normal' for me to need to use my right elbow, braced on my horses shoulder as this ladies was less than 10 sec into the video, in an attempt to keep myself safe.
I didn't know exactly what I was doing at the time. I don't remember someone teaching me to put my elbow up like that. I think it was just a response after being run over at some point and the elbow became a 'defense', something to push my body out of the way instead of being run down.
This is one of the reasons that I challenge people now to learn to handle their horses at a distance. Can you keep your horse about 4 feet away from you and still be under control?
Anyone have any other crazy videos they want to share?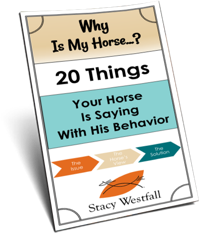 FREE PDF DOWNLOAD
WHY IS MY HORSE...?
No one taught you the skills you need to work through these things.
Riders often encounter self-doubt, fear, anxiety, frustration, and other challenging emotions at the barn. The emotions coursing through your body can add clarity, or can make your cues indistinguishable for your horse.
Learning these skills and begin communicating clearly with your horse.
Click here to learn more.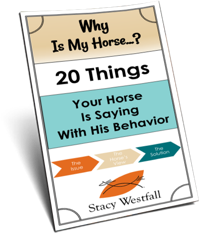 Free PDF Download "Why is my horse...20 things your horse is saying with his behavior"
PDF will be delivered to the email address you enter as will weekly tips from Stacy. Totally free. Unsubscribe anytime.