"Stacy-Hi from the U.K. , can you show us a pic of the bit you started jac in please,  Lovin the vids and learning a lot "
Here is a photos of one of my smooth snaffle bits…the one on Jac's headstall is packed due to the move, lol. The photo is also a link.
Nothing fancy. Not too thick or thin.
In the next episode of Jac (Episode 25) I switch to a twisted snaffle. I explain why in the video.
Good news…when we were video taping Jac for Episode 25 I remember to show you the bit!
Watch for it on Wednesday, February 26th.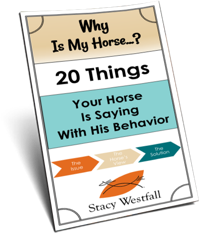 FREE PDF DOWNLOAD
WHY IS MY HORSE...?
Free PDF Download "Where is my horse...?"
20 things your horse is saying with his behavior.