I Can Can I.
That is the name that I gave my little 14 hand horse…who keeps proving that she certainly CAN. Willow (that's her barn name) and I drove 16 hours to Oklahoma City to the American Quarter Horse Association World show to compete in both traditional and western dressage.
?AQHA World Show Champion Open Western Dressage, Third Level & higher -average 72.9165%
?AQHA World Show Champion Open Western Dressage, Second Level -average 73.0215%
?AQHA World Show Champion Open Dressage, Third Level & higher – average 64.9005%
?AQHA World Show Reserve Champion Open Dressage, Second Level -average 67.677%
?I was so proud of my little pony and her big heart. We rode ten tests in four days and she was willing every time. The competition was amazingly tight, often wins were determined by fractions of a percentage!
?I also received my favorite judges comment of all times (my second favorite was a judge who commented 'Cute pony ❤️')
The comment read, "You got just about every possible point out of this willing, obedient horse who is just not gifted with elasticity. Good training."
I was half laughing, half crying when I read it and drove around with the test on my dashboard for the next few days.
Willow is not elastic (just ask the farrier)…she is more like a tiny body builder. But she is willing and obedient and does her best to be a ballerina.
I'm forever thankful to this judge for recognizing both Willows effort and the limiting factor that is just plain true.
If you have a quarter horse and are interested in dressage or western dressage I highly recommend setting your sights on the AQHA World show next year. Take advantage of online lessons and shows…and look for AQHA approved shows in your state.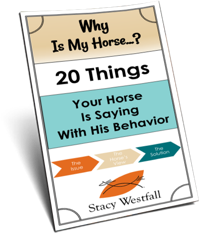 FREE PDF DOWNLOAD
WHY IS MY HORSE...?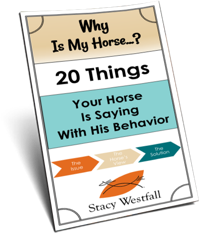 Free PDF Download "Why is my horse...20 things your horse is saying with his behavior"
PDF will be delivered to the email address you enter as will weekly tips from Stacy. Totally free. Unsubscribe anytime.