Although it is true that I rode my horse through the Starbucks drive-thru while I was in Norco, California, I don't always go out for coffee. Our motorhome living has encouraged me to learn how to make my own lattes at 'home' which turns out to be MUCH LESS EXPENSIVE than going out for a latte everyday.
I did a lot of Google searches and watched a lot of YouTube videos before I conquered the art of making my lattes at home. I can't quite match the top coffee shops in the country but I can make a latte that my tastebuds prefer over most coffee shops…including Starbucks (gasp!).
Although I could do an entire blog on the art of making a latte at home I will only mention in this blog the importance of the fresh roasted coffee bean. Everything I read told me that the beans needed to be roasted and used within two weeks. The beans should also be kept whole until moments before making the coffee which means grinding them just prior to brewing. I know, it sounds complicated, but as Starbucks is over Fivebucks per cup…its worth learning.
One advantage of traveling around this much has been trying out different coffee beans. It turns out one of our favorites is Elemental Coffee Roasters in Oklahoma City. Not so good if you happen to be in California…oh, wait, that isn't a problem…they ship! Problem solved.
This is a photo of me packing my saddle bags with my fresh roasted coffee beans that arrived in Norco, California one day after I did. I ordered them online and they were in transit at the same time I was…then we both arrived in Norco for this photo. After a short ride back to our motor home I was sipping my homemade latte…aka espresso delivered by pony. Pony Express-o.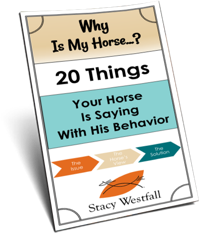 FREE PDF DOWNLOAD
WHY IS MY HORSE...?
No one taught you the skills you need to work through these things.
Riders often encounter self-doubt, fear, anxiety, frustration, and other challenging emotions at the barn. The emotions coursing through your body can add clarity, or can make your cues indistinguishable for your horse.
Learning these skills and begin communicating clearly with your horse.
Click here to learn more.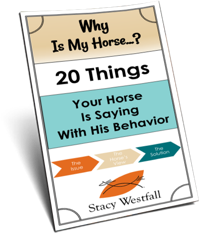 Free PDF Download "Why is my horse...20 things your horse is saying with his behavior"
PDF will be delivered to the email address you enter as will weekly tips from Stacy. Totally free. Unsubscribe anytime.