I make one promise to my horses.
I promise to develop you to your fullest potential.
Pulling a cart, a safe trail horse or the show pen…
I don't decide…I help them find it.
I sold Willow as a weanling.
I bought her back as a 4 year old when she was too small.
I thought I could make her a kids horse.
I started her under saddle.
I trail rode & messed around.
For two years.
I wanted to do reining but she wasn't ready for that pressure yet.
So I looked around and decided to try western dressage.
She did well.
I'm a lifelong learner.
I find most horses enjoy learning.
In 2019 I decided to show Willow in traditional dressage.
Why show? People ask.
Why not? I answer.
Its just another place to develop our communication.
And to hold up my promise to develop each horse to its potential.
Showing never hurts a horse.
Bad decisions and poor choices hurt horses.
And that can happen behind closed doors as easily, or more easily, then in an arena.
So when we went to our last show. … in the mud, between the rain.
Willow and I earned our bronze medal in dressage.
While I'm proud of the show ring awards, I'm more proud of being part of her story.
I'm proud that I recognized where she was at.
And that I kept asking, 'but what if you can do more'
And she said, 'maybe I can.'
And she did.
AQHA, USEF, USDF registered name: I Can Can I
Trained, shown and loved by Stacy Westfall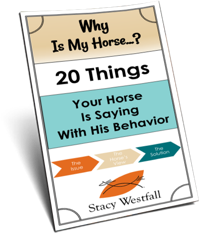 FREE PDF DOWNLOAD
WHY IS MY HORSE...?
No one taught you the skills you need to work through these things.
Riders often encounter self-doubt, fear, anxiety, frustration, and other challenging emotions at the barn. The emotions coursing through your body can add clarity, or can make your cues indistinguishable for your horse.
Learning these skills and begin communicating clearly with your horse.
Click here to learn more.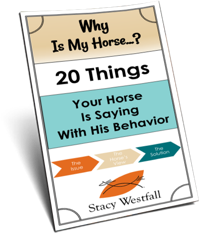 Free PDF Download "Why is my horse...20 things your horse is saying with his behavior"
PDF will be delivered to the email address you enter as will weekly tips from Stacy. Totally free. Unsubscribe anytime.