Dear Uncle Louie,
I am riting with good news. Too good news-es in fact.
Did you hear that we had a little couzin born today? She looks kinda small and wobbly but they say she should improve quickly. I think she looks a bit like you.
I also made an interesting discovery this week.
My mom has been riding me on a very loose rein…she even took the bridle off once.
That made it really easy to play in the dirt. I like digging in dirt with my nose.
Well, I had my head down to push dirt and a thought occurred to me.
I don't have thoughts often…so I decided to go with it.
You see, mom has been teaching me to lay down sometimes.
I like it.
It is easy.
She doesn't have me do it while we are riding.
She should.
It would be easier.
So I decided to lay down.
This is a bit embarrassing to admit, but as you are my uncle I will tell you. I got stuck half-way down.
It happened like this; mom asked me to move my hip, I did and I put my head down too, I had the idea to lay down, I buckled my legs and went down on my knees…and then mom started kicking me.
I guess she didn't want me to lay down…but I couldn't get up either (I fell over once trying and with her on me I didn't want to do that)…so I just knelt there. She got off and got me up.
I wasn't sure if she was happy I had the idea…or not.
Later, at the end of the ride she showed me a cue to lay down. I was so excited! She must have liked my earlier idea.
The next few days I tried laying down but I guess I'm only supposed to do it when she asks me to.
I will keep you posted. Maybe you should try it?
Rite back if you can,
Newt (Noodle)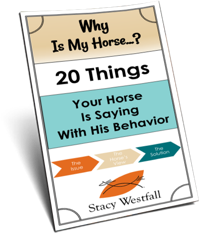 FREE PDF DOWNLOAD
WHY IS MY HORSE...?
No one taught you the skills you need to work through these things.
Riders often encounter self-doubt, fear, anxiety, frustration, and other challenging emotions at the barn. The emotions coursing through your body can add clarity, or can make your cues indistinguishable for your horse.
Learning these skills and begin communicating clearly with your horse.
Click here to learn more.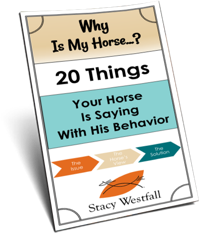 Free PDF Download "Why is my horse...20 things your horse is saying with his behavior"
PDF will be delivered to the email address you enter as will weekly tips from Stacy. Totally free. Unsubscribe anytime.