Dear Diary,
As you know we have been moving a lot. We have been in our current location in Flag-staff for three days. It is nice here. I have a stall with shavings and I can still go outside and play games with Hope.
The stuff up here isn't as poke-y to taste test as it was at the last place. I did find something unusual today. I think he might have been a distant couzin but he was pretty shy. I tried to chase him down so I could ask him a few questions but Mom wouldn't let me. She doesn't understand.
Maybe he will come visit me tonight. An owl visited last night. I will stay up all night and see.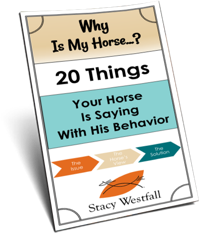 FREE PDF DOWNLOAD
WHY IS MY HORSE...?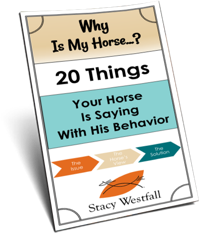 Free PDF Download "Why is my horse...20 things your horse is saying with his behavior"
PDF will be delivered to the email address you enter as will weekly tips from Stacy. Totally free. Unsubscribe anytime.