"I felt confused and slightly disappointed…"
When I rode my first dressage test I thought I had done the hard part… until I tried to read the results. I had taken the time to memorize the movements but I had paid little attention to the rest of the test. 
Although I was told I should be happy with my score,  I found myself confused and slightly disappointed, until I learned how to understand what I was looking at.
Here are the three main mistakes when first looking at my first test.
I didn't understand what the numbers meant
I didn't understand why the judge sounded so harsh
I didn't know what coefficients were

 
Let's take a look at one of my tests and I'll explain. 
Mistake #1- Not knowing the meaning of the numbers
Headed into the show I was thinking big picture. I asked what score I should hope for (they said 60%) but I never asked for more detail. If I had looked up the following number definitions I would have understood why 60% was even my goal.
10-Excellent
9-Very Good
8-Good
7-Fairly Good
6-Satisfactory
5-Marginal
4-Insufficient
3-Fairly Bad
2-Bad
1-Very Bad
0-Not Executed 
Note: The judge can also use half marks which means you can receive a 5.5, 6.5, 7.5, etc. 
Mistake #2- I thought the judge sounded harsh but…
As I scanned my test the comments jumped out at me. 
"Tight in the back"
"Need more bend in loops"
"Needs more forward"
"Needs energy & cadence"
"Braced into"
"Should be clearer"
"Could show more"
"Short behind at times"
"Should stretch more"
The comments mostly seemed negative although on the back of the test the last remark was, "Attractive pair." Talk about confused.
The score was what I had hoped for (above 60%). The comments were mostly negative. But the judge thought we were an 'attractive pair.' I was clearly missing something.
What I've learned since that first test is that the comments are pointing out what I could improve on. It turns out that in order to improve, I needed to know where to focus.
I initially saw the comment as negativity instead of a way to improve. Now I realize that the number could be telling me I was on track but the comment was telling me how to improve. For example: I could score a 7 (Fairly Good) and still receive a comment like 'gets quick'.  While the number is telling me I am above satisfactory, the comment is telling me what I could improve to score even higher. 
Mistake #3-Coefficients: Not all movements are equal
When I showed my test to a friend she remarked 'too bad that happened on the coefficient'. 
The what? 
It turns out that some movements on the test count for twice as much.  While the judge scores each movement individually against a standard, each test has movements that are emphasized. These specific movements are doubled. These movements are clearly marked on each test (see photo). 
Had I known how to read the test before I rode, I would have realized that certain movements were more heavily weighted. At first, I wanted to kick myself for not knowing this but looking back at my first test I realized it would not have mattered. My mind was already on overload trying to remember everything else so I doubt knowing would have changed my first ride. Now, with a few more shows under my belt, I do put an emphasis on practicing the coefficient movements at home. 
Which is exactly the point. 
When I show, I still show all movements equally without considering the coefficients as I show but I can see that the added practice at home has improved these areas.
Conclusion
I hope this article helps you avoid the confusion I felt when reading my first test. The tests are more than a list of movements strung together. It is a progression of movements stacked inside a progression of tests with the goal of developing both horse and rider. 
Give it a try! I'm glad I did.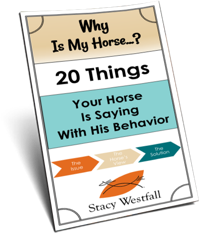 FREE PDF DOWNLOAD
WHY IS MY HORSE...?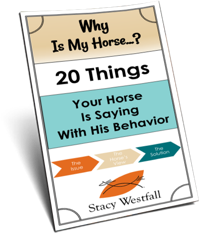 Free PDF Download "Why is my horse...20 things your horse is saying with his behavior"
PDF will be delivered to the email address you enter as will weekly tips from Stacy. Totally free. Unsubscribe anytime.