Total training time: 143 hours
At some point in their lifetime most horses are ridden by more than one rider. Up to this point I am the only one who has ridden Jac. In today's episode my husband, Jesse, will ride Jac for the first time.
I explain that I am planning on taking a trip and if Jac goes with me- he won't be ridden consistently.  I am considering leaving Jac for Jesse to ride while I am gone to allow Jac's training to continue without the interruption of the trip.
Jac's mother, Roxy a.k.a. Whizards Baby Doll, was trained by Stacy as a two year old and then Jesse trained and showed her as a three year old. Stacy then trained and showed Roxy as a four and five year old.
Jesse states in the video, "Everyone rides a little different…we're built different, we feel different to the horse…maybe one uses their legs a little stronger, we sit maybe a little different, so it feels different to the horse so they are going to respond different…"
My favorite line is when Jesse says, "Jac might get a little confused…and that's ok, he won't get in trouble for that…"
At 6:00 you can hear the dialog between Stacy and Jesse as Jesse is riding Jac. The 'break of gait' is in reference to Stacy showing Jac in Episode 32.
These differences between rider cues are often more evident in a horse that has only been ridden by one rider. As horses get accustom to having multiple riders they can learn to adjust quickly and the transition can become seamless.
At 7:40 I make a reference to seeing negative consequences to switching trainers frequently. This isn't to be confused with switching riders; one person trail riding one day and a different person trail riding the next day. It refers to very active teaching and training. This 'transition' is also less exaggerated as the horse becomes more seasoned; older or more experienced horses handle the transitions between trainers better than younger/greener horses.
Watch as Jac performs flying lead changes, stops, circles and spins with a different rider. Pay attention to the fact that the 'problems' Jesse has are Jac's normal response-just more frequent; Jac broke gait with me in the show…Jac tries breaking gait frequently with Jesse. This is an indicator that Jac tends to be on the lazier side and tends to default to stoping. This is interesting to keep in mind and compare to the other information we have gathered about Jac over the series.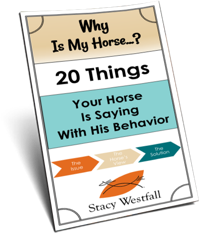 FREE PDF DOWNLOAD
WHY IS MY HORSE...?
No one taught you the skills you need to work through these things.
Riders often encounter self-doubt, fear, anxiety, frustration, and other challenging emotions at the barn. The emotions coursing through your body can add clarity, or can make your cues indistinguishable for your horse.
Learning these skills and begin communicating clearly with your horse.
Click here to learn more.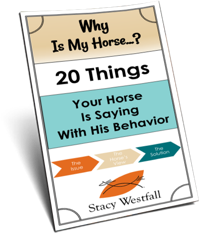 Free PDF Download "Why is my horse...20 things your horse is saying with his behavior"
PDF will be delivered to the email address you enter as will weekly tips from Stacy. Totally free. Unsubscribe anytime.