I love helping people understand their horses. 
But I also know what it is like to live a busy life.
It would be AWESOME if you could come and ride with me. I would love to answer your questions and show you the next step you need to take.
But I know that isn't possible for everyone...
Except...maybe it is! 
What if we could meet up online?
What if you could ask me a question, I could answer, and then you could ask any follow-up questions for clarity?
What if you could listen in as others asked their questions?
I'm a life long learner. I read books, listen to podcasts, watch videos and take lessons. I know what it is like to be so-close to understanding something...and yet to feel like it is just out of reach. 
I also know how one specific answer can be the key to forward progress. 
For the remainder of 2019, I'm offering ways for you to ask me your questions...from the comfort of your home. No need to travel. No big time commitment.
Option #1- Join me inside the Video Vault. 
Inside the Video Vault I will be recording Zoom calls monthly. Some of these calls will be free for anyone to view while others will be locked inside the Vault. 
The paid content will live inside my Video Vault as a bonus feature to anyone who joins. For a one time purchase, you will receive my full library of content, bonus content, recordings of my Zoom calls and the ability to directly ask me a question!
If you prefer to remain anonymous you there is a location inside the vault where you can submit your question ahead of time. 
If you can't attend the call or you want to rewatch it later, it will be there for you in the Video Vault.
Whether you choose to attend the random, free sessions or to join the Video Vault...I look forward to answering your questions and helping you move forward on your journey!
Option#2- Book a private coaching call with me. 
If you've been listening to the podcast, watching videos or reading blogs and would like your specific questions answered you can book a call or lesson online. You may submit a video with your question or you can simply show up with questions in hand. For more information on booking a private session, click here.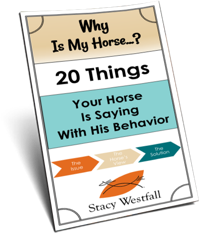 Free PDF Download "Why is my horse...20 things your horse is saying with his behavior"
PDF will be delivered to the email address you enter as will weekly tips from Stacy. Totally free. Unsubscribe anytime.