About our clinics:
We have an incredibly low teacher to student ratio of 1:2, one teacher for every two students

Both teachers are high-level instructors of their own accord

We offer a very limited number of clinics

These are private clinics. No auditor tickets will be sold.

Your clinic will include lifetime access to the digital video vault. We recommend that you have studied, at minimum, the Basic Groundwork, and Basic Body Control videos prior to your arrival. Additional videos will help you to understand the basic principals and language that will be used.

Foundation for a Lifetime Clinic
This clinic is designed for people who want to understand the horse training process with the goal of training and improving the horse they bring, as well as the future horses they ride. In this clinic, we will guide you and your horse through the exercises we use to create a solid foundation for both horse and rider. We will show you how we decide when to move to the next exercise or when to go back to a previous exercise. We will also show you how these pieces are the foundation that makes future advanced maneuvers possible.
Is this clinic right for you?
This clinic will be a great fit for you if:
you are looking for a small group setting (max of 4 riders including yourself)

you enjoy asking questions

you are open to learning new training theories

you want to understand how simple exercises lead to big results

you want to leave with specific exercises and a plan

you desire arena and trail work (weather permitting)
Check back for a more updated schedule or email us with your scheduling questions.
Outside of clinic hours, we will also offer you other things to do. At past clinics we have had people go to coffee with us in the morning, group lunches, group dinner, or local site seeing. You will be free to join in or kick back and relax…completely your choice.
Where will the clinic be held? Where will I stay?
The clinic will be held at Westfall Horsemanship. Please visit this page for directions.
There are many choices for lodging during the clinic. Please click here to read more about lodging options during your clinic as well as places to stay with your horse if you decide to extend your stay in the area.
What is the cost?
First, I would encourage you to think of this as an investment, not as a cost.
If you come in the mindset that you are investing this time, energy and financial resources because you are going to get a return, you will be more likely to fully participate. You should plan on leaving with a new perspective on how to approach training issues with all the future horses you handle. You should plan on leaving with more confidence, more exercises, and the ability to consistently create positive change in the horses you handle in the future.
The investment for this clinic is $1,500 for a two-day clinic. This includes the clinic, stall, and shavings for the stall during your stay.
The good news is, you don't get just the benefits listed above, you also receive:
lifetime access to Stacy's digital Video Vault, Includes:

Basic Body Control, 2 Disc Set

Basic Ground Work, 2 Disc Set

Starting Young Horses, 2 Disc Set

Teaching Your Horse To Bow, 1 Disc Set

How Does She Do That: Bridleless Riding, 1 Disc Set

Whoa! Teaching Your Horse To Stop, 1 Disc Set

The Subtle Cues You Give Your Horse, 1 Disc Set Exclusive

Chase Your Dreams Bonus DVD

Foundation for a Lifetime, 4 Disc Set

Pen & notebook

daily one-on-one recap with Stacy of what you have learned

recommended exercises you should be practicing
A deposit of $500.00 is required to secure your spot. Payment in full is required one month before the clinic. Fees are transferable to future dates should either horse or human become unable to attend due to soundness or injury.
Click on the application link to view current dates available. If no current dates are listed please email with your prefered dates. 
Deposit and Payment not required with the application, only after acceptance. Upon acceptance, a $500.00 deposit is required to secure your spot.
Email to request dates
Every person that attends has a unique schedule to work around. We publicize some but not all of our available dates. If you have a unique situation with limited availability feel free to email us with your specific date request. The worst thing that could happen would be that we are unavailable but you will have tried!  Send email to westfallhorsemanship@gmail.com with 'clinic' in the subject line.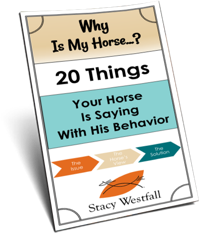 Free PDF Download "Why is my horse...20 things your horse is saying with his behavior"
PDF will be delivered to the email address you enter as will weekly tips from Stacy. Totally free. Unsubscribe anytime.