My husband is one of those guys, you know, the ones who know all the stats from their favorite football team including the past, present and up-and-coming. He doesn't only do this for his sports team though…he does it with reining horses too.
His knowledge of reining horses-past, present and up-and-coming is quite amazing. He loves analyzing bloodlines and performance records. I give him credit for creating Roxy, Vaquero, Jac and many other great horses because he chose the combination of sire and dam resulting in those horses being foaled.
Today Jesse showed me some interesting statistics from the April 2014 Quarter Horse News. The first thing he showed me was the chart in the photo. These are the top sires in the NRHA in 2013 based on how much their offspring won in 2013.
Jac (Jac's Electric Whiz) is by Jacs Electric Spark who is number 4 on the list. What Jesse was pointing out though was how high Jacs Electric Spark average was. For example the first sire, Wimpys Little Step, had 359 foals show last year.  They earned $1,429,148 bringing their average to $3,981.00.
Jac's Electric Spark averaged $6,273.00.
On another page of the News were statistics on Maternal Grandsires, which is the sire of the mother. Jac's mother was Whizards Baby Doll who was by Whizard Jac.
Whizard Jac was ranked number 16 on this list BUT his average was higher than any of the 15 horses above him on the list.
Keep in mind that Jesse chose to create Jac four years ago. Not bad Jess, not bad at all.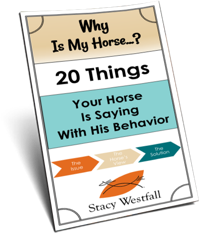 FREE PDF DOWNLOAD
WHY IS MY HORSE...?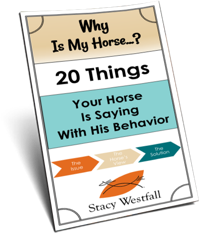 Free PDF Download "Why is my horse...20 things your horse is saying with his behavior"
PDF will be delivered to the email address you enter as will weekly tips from Stacy. Totally free. Unsubscribe anytime.