About this clinic:
This is the opportunity to ride with us multiple times during 2019. Although we are currently titling this a clinic series, it more closely resembles other clinicians 'certification' programs. It is designed for people who want to achieve an advanced understanding of training and maneuvers for either personal or professional growth.
This will allow you to ride with us multiple times, with breaks in between where you return home and practice what you have been taught. We have used this method over the years with astounding results. Our students have not only advanced in their learning, they have proven themselves in the show-pen winning at major events. Many of them have competed and won…without bridles!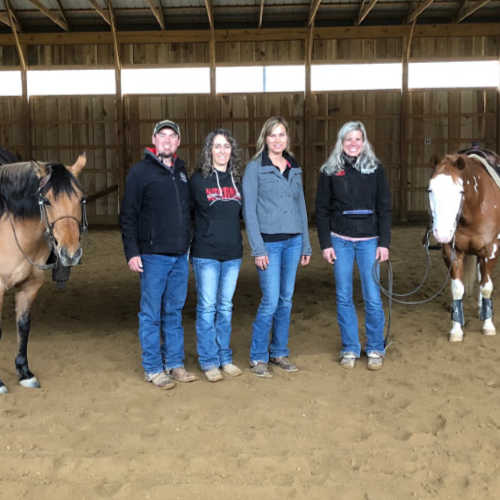 Advancing with Excellence Clinic
If your goals involve competing at a mustang makeover, a competitive trail challenge, ranch riding, western dressage or freestyle reining this clinic series might be right for you.
We have coached people to high levels in multiple disciplines. We have had students win year-end belt buckles, saddles, regional titles, national championships and freestyle reining. We have had several students compete and win at a national level…bridleless! 
Is this clinic right for you?
This clinic will be a great fit for you if:
You are interested in riding with us multiple times 

You can commit to returning to Loudonville, Ohio 

You believe high-level training can be achieved while still being a compassionate trainer

You would like the opportunity to ride one of our trained horses

You would like to bring more than one horse 

You have a desire to advance in the following areas:

lead departures & flying lead changes

spins, neck reining, steering

sliding stops

rollbacks

bridleless riding

colt starting (this is not an accident, colt starting is advanced training)
Where will it be held?
The clinics will be held at our location in Ohio. Please click here to read more about directions, lodging options during your clinic as well as places to stay with your horse if you decide to extend your stay in the area. 
What is the cost? 
The person who is interested in this clinic should consider that they will be learning the skills of a professional horse trainer. In this mindset, you should be looking at this as continuing education. Even if you choose not to become a professional horse trainer, you WILL save money because you will be training your horses yourself instead of paying someone else to train them.
I would encourage you to think of this as an investment, not as a cost.
If you would like to compare this cost to other programs offered, you can compare this to other clinicians 'certification programs'. 
Each two-day session is $1,500 per person. Sessions may be scheduled at intervals that fit your goals.
What is included?
Highly personalized instruction with Stacy Westfall

Includes clinic, stall, bedding, full set of digital DVDs, notebook, daily one-on-one recap with Stacy of what you have learned & exercises you should be practicing
Includes one phone call/video review between sessions
One to one coaching
Option to bring two horses per rider beginning with the second clinic
Option for a lesson on our trained horse beginning at the third clinic
Additional oppertunities flexible with student goals (some students may go to shows with us)
What will the schedule be like?
As this will be a recurring series we will work with you to fit these recurring two-day clinics into your schedule. 
series of 2-day clinics 

limited to 1-2 riders

no MINIMUM or MAXIMUM number of clinics required
An example schedule would be:
March 12-13- $1,500

May 14-15 -$1,500

June 18-19--$1,500

July 16-17 ----$1,500

flexible schedule-return as often as needed to fit your goals and schedule (someone might come twice a year and another might come six times per year-you decide)

clinic times available on weekdays or weekends.

It is not required to space returns at one-month intervals, you may schedule your dates on a flexible schedule. It may also be possible for you to stay for additional days in a row depending on your unique situation. (example: traveling from a very long distance)
If you have questions about the possible dates or scheduling possibilities, please email westfallhorsemanship@gmail.com with advancing clinic in the subject line.   
You will be allowed to submit a video showing your current riding level and questions. 
If this interests you and you would like more information, feel free to email westfallhorsemanship@gmail.com.
Deposit and Payment not required with the application, only after acceptance. Upon acceptance, a $500.00 deposit is required to secure your spot.
FAQ:
Question: I don't really understand the schedule? How often can I come? How often should I come?
Answer: People have different goals and different work schedules and this clinic series is designed to work with that.
One person might come for two days in March, again in June, and a final time in August. Another person may elect to come once a month for six months in a row. Yet another may return every other month year round.
After applying you will have a phone call with Stacy to discuss your goals. You can even attend the first clinic and then decide on your frequency after that.
Question: When are you available?
During 2019 our availability during the week will be much more open than our weekends.
Our schedule will be very open during midweek, specifically Tuesday/Wednesday. Right now you can book March 12-13, April 16-17, May 14-15, June 18-19, July 16-17, 2019. Some weeks we will be available on other days or even weekends. We are planning on attending multiple horse shows during 2019 which conflicts with scheduling clinics at home.
If you have a very limited availability you would be advised to book the dates that work best for you in advance to secure those dates and ensure the schedule you desire.
Question: I'm interested in learning more about showing...could I go to a show with you?
Answer: Yes. Students who attend a clinic could schedule the date to line up with also attending a show. If you have an interest in attending a reining, ranch riding, or western dressage show with a coach this is your chance. There are separate fees involved in attending a show, please email for more information.
Free PDF Download "Why is my horse...?"
20 things your horse is saying with his behavior.
PDF will be delivered to the email address you enter as will weekly tips from Stacy. Totally free. Unsubscribe anytime.