Our physical address is 998 County Road 3275, Perrysville, Ohio BUT BEWARE!
The address won't be found by any GPS we have met yet. I did go into Google Maps and report my business, Westfall Horsemanship. If you use your GPS and search Westfall Horsemanship, it will most likely find us. But the address won't work.
If you're planning to come, I also suggest being prepared for no cell service as you get close. It is spotty at best. So consider printing the map.
We live in a beautiful area! Email us if you have other questions.
Places to Stay without Horses
This is a list of places to stay if you are traveling to the area without your horse. If you are traveling to one of our clinics your horse will be staying at our barn during the clinic and these will be housing options for you during the clinic.
Some people have expressed an interest in staying in the area after the clinic to do some additional trail riding. Below you will find several places where you can stay with your horse either before or after the clinic if you wish.
Places to stay within 10-mile drive:
Places to stay within 13-16 miles
Places to Stay with Horses
If you are traveling to a clinic here in Loudonville and would like to arrive early or stay late and enjoy the trail riding, there are several places where you can stay.
This facility was recommended by someone who emailed me. He said that he has stayed there several times and plans to visit again.
Phone Number: 419-892-2929
E-Mail us at: angelwoods@embarqmail.com
http://www.ohio-bed-breakfast.com/comfortable_rooms.htm
Closest location to Westfall Horsemanship
Tel: Phone (440) 371-4160
Email: mastellone@centurytel.net
http://trailsendmohican.com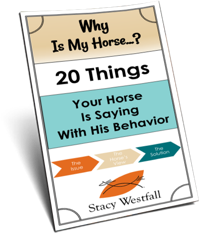 Free PDF Download "Why is my horse...20 things your horse is saying with his behavior"
PDF will be delivered to the email address you enter as will weekly tips from Stacy. Totally free. Unsubscribe anytime.