This is the saddle I am currently riding and showing in.
The saddle shown in this video and the side photo are of the saddle I am currently using. There are so many terms that get used it can sometimes be confusing (all-around, etc.)
This saddle has been used by people to show in ranch riding, western dressage, reining and at open shows...and of course for trail riding!
When considering a saddle you need to fit your horse, yourself and also consider the 'purpose' of the saddle. For example, some 'reining' saddles will place your leg forward of your hips. This is fine in reining where you are not judged on how you sit...and where you want your legs to easily move forward during the sliding stop so you can keep yourself from flying over the front of the horse. However...
If you were to use that same saddle for western dressage where the rider position IS JUDGED you would have trouble getting into the correct position.
This saddle has what I would call a 'neutral' stirrup position. It allows your legs to move forward or back but doesn't pull them forward or back.
Here are some of the specs:
Features:
Built on a Reinforced Free Form Tree
Full QH Bars
Chocolate suede seat
Beautifully Hand tooled
Rich Chocolate Color
Full position in skirt rigging
Weight- 32 lbs.
Balanced seat ride
The saddle is only sold at Stagecoach West but they can ship anywhere. They also have world class customer service. If you buy a saddle from them, they will allow you to take it home and ride in it, and if it doesn't fit correctly, you can mail it back for a refund. Ask them for all the details when you call the store 1-800-648-1121 (or email them). They also offer 0% financing on saddles.
I recorded a podcast talking about saddles and Trish from Stagecoach joined me. Click here to listen to the podcast. 
Over the years I have had multiple opportunities to work with saddle companies. I decided to work with Stagecoach West for one reason: customer service.
They know horses and they want to do right by the customer.
Selecting a saddle can be a challenge. The saddle must fit the horse correctly as well as fitting the rider.
If that were not enough of a challenge-horses and riders both change as their fitness levels change. For these reasons, as well as many more, purchasing a saddle can feel overwhelming.
Stagecoach West is willing to answer you questions over the phone...or you can haul your horse to the store for a personal consultation-FREE!
Many of you do not live close enough to haul in. If you call and find a saddle you like, you have the option of purchasing it, riding in it and then changing your mind. Yes, they have a return policy that will allow you to actually ride in the saddle and return it! Be sure to ask them about the details (the time frame to return it in, etc).
While I hope that one of the saddles I use will also make you happy...I realize that it may not. Stagecoach West carries many other saddles and I am happy for you to find one that fits you and your horse- even if it is NOT a Westfall saddle.
PLUS they take in used saddles...and sell used saddles.
For those reasons (and more) I send people to Stagecoach West when they are looking for a saddle. And I go their myself!
Oh, if you are shopping at Stagecoach West, use the code 'Stacy' in the check out to receive 15% off your entire order (excluding saddles). While the discount doesn't include saddles...they carry lots of other great tack and stuff to match that new saddle of yours!
Stagecoach West 
Stagecoach West is the only store that carries Westfall saddles.
Their commitment to customer service shows. They can help you select the best option for you and your horse (even if it isn't a Westfall saddle) and they have a great return policy. Ask them about it.
Disclosure: Some of the links here are affiliate links, meaning, at no additional cost to you, I will earn a commission if you click through and make a purchase.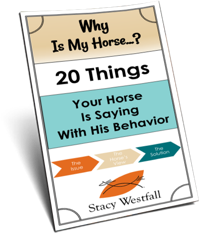 Free PDF Download "Why is my horse...20 things your horse is saying with his behavior"
PDF will be delivered to the email address you enter as will weekly tips from Stacy. Totally free. Unsubscribe anytime.