Stacy's Stuff: QUICK CATCH HALTER
Summary: What it is, why I use it.
I'm busy writing this...can you hear my keyboard at work?
Also available at Stagecoach West! Use code 'Stacy' at checkout to receive 15% off your entire order (excluding saddles).
Click here to visit Stagecoach West!
Disclosure: Some of the links here are affiliate links, meaning, at no additional cost to you, I will earn a commission if you click through and make a purchase.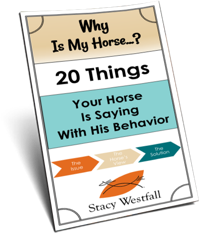 Free PDF Download "Why is my horse...20 things your horse is saying with his behavior"
PDF will be delivered to the email address you enter as will weekly tips from Stacy. Totally free. Unsubscribe anytime.