I am grateful that you have subscribed to my mailing list. I respect your choice and you have been removed from that particular type of email. You will still continue to receive the original type of email you signed up for.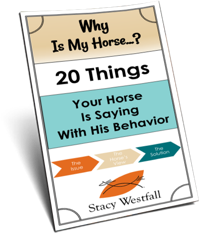 Free PDF Download "Why is my horse...20 things your horse is saying with his behavior"
PDF will be delivered to the email address you enter as will weekly tips from Stacy. Totally free. Unsubscribe anytime.