These trailer loading videos are TOTALLY FREE because of Tekonsha!
Teaming up with great sponsors benefits all of us. It makes it possible for me to provide you with great, free content and it gives me the chance to spread the word about companies who are providing important services. My partnership with Tekonsha is a great example of this. I used Tekonsha's products long before they approached me about teaming up! The fact that I already used the product AND that Tekonsha also wanted to promote education made teaming up a great fit.
Video 1. Professional horse trainer, Stacy Westfall, talks about pre-trailer loading tips: things you should be able to do with your horse before trying to load your horse in a horse trailer.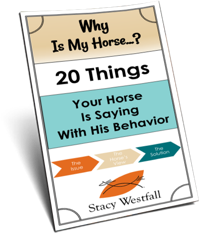 Free PDF Download "Why is my horse...20 things your horse is saying with his behavior"
PDF will be delivered to the email address you enter as will weekly tips from Stacy. Totally free. Unsubscribe anytime.