Learning to Coach Yourself Conference 2019
Do you love time spent with your horse...but also find yourself wishing for more?
Do you feel confident when you are receiving instruction...but lost when you go home?
Do you wonder how you can confidently train your horse...when you feel less than confident in your ability?
We know how you feel.
We have been there.
But….there is hope.
There is a way to increase your confidence, set your goals...and make massive progress.
And you can learn to do it for yourself.
It will supercharge your next clinic or riding lesson.
…it will supercharge your life.
If you commit. 
The goal of this event is to bring horse people together in a fun, interactive environment where we can discuss the limits we unintentionally impose on ourselves and our horses.
It doesn't matter if your goal is to win at the next show, to ride safely down the trail or to raise a foal...we all run into challenges.
How we respond to those challenges is how we experience our lives.
If you would like to join a group of people who are interested in looking at challenges as opportunities please consider joining us.
We will give you the tools, skills and knowledge to coach yourself...so you can show up as a more confident leader for your horse (and yourself) as you pursue your next stage of life.
This event is for you if...
-you would enjoy spending the day in a learning environment with other horse people
-you are open to the idea that changing the way you approach a challenge can change the outcome
-you understand that controlling your emotions is key to teaching your horse to control his emotions
-you have listened to Stacy's teaching materials (podcast, emails, videos) and have questions about how it fits together
Save the date!
November 2, 2019
Interested in receiving updates on this event? Use this simple form to subscribe.
Saturday:
8:00 AM: Check in and snacks
8:30 AM: Introductions
9:00-10:30 AM
Session 1-White Pine Grove
10:30 AM: Break & location change
11:00 AM
Session 2- Indoor arena. Experiential learning session with the horses!
12:30 PM: Catered Lunch-White Pine Grove
1:30 – 2:45 PM
Session 3- White Pine Grove
3:00-4:00 PM:
Session 4- White Pine Grove 
Final Q & A Session. Questions may be asked live or submitted anonymously on provided paper
VIP Sunday:
9:00 AM-Noon: Private Barn Session with Stacy Westfall. Group limited to max of 10. This is your opportunity to ask Stacy question and have her demonstrate with her horses as she answers your questions. People find these sessions particularly helpful for facilitating breakthroughs in how all of the 'pieces' of horse training fit together.
Located in Perrysville, Ohio
This event will have sessions in two locations.
The classroom portion as well as meals will be held inside a beautiful rustic event center called White Pine Grove.
The live horse portion will be held in the Westfall Horsemanship indoor arena.
These two locations are a two minute walk from each other or a very short car ride!
Information for those flying to event:
The best options are either Columbus (CMH) or Akron (CAK)

Distance from either airport to the event location is aproximately 70 miles or 1 hour 20 minute drive
Early bird event ticket
Early bird ticket includes: 
Full access to Saturday event
Day Conference Registration and Attendance
Conference Materials
Coffee, drinks & snacks
Catered lunch
Networking Opportunity
Self evaluation form
NOTICE: TICKET PRICE WILL INCREASE OCTOBER 15TH!
Please note: hotel is not included in event price. 
VIP ticket
VIP ticket includes:
Full Access to Saturday event...Plus full access to private VIP meeting Sunday
2 Day Conference Registration and Attendance
Conference Materials
One on One Access to Stacy during Sunday barn meet up
Coffee, drinks &snacks
Catered lunch
Networking Opportunity
Self evaluation form
Please note: hotel is not included in event price.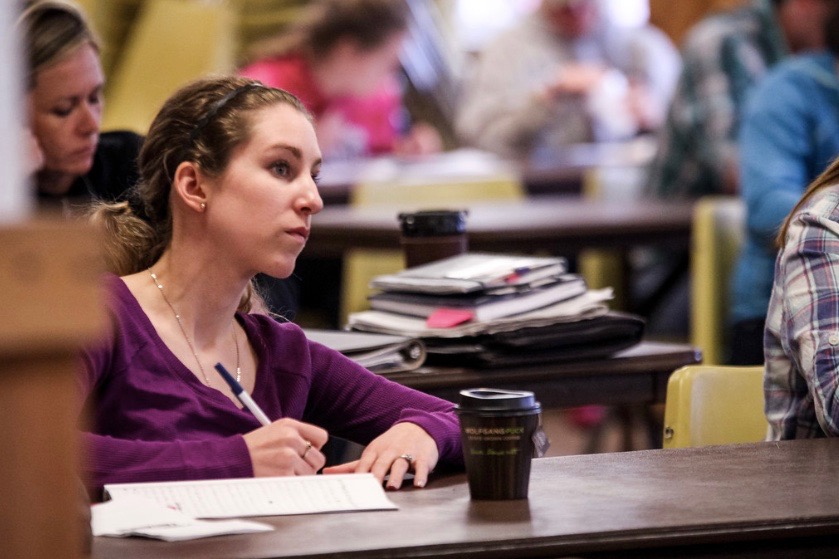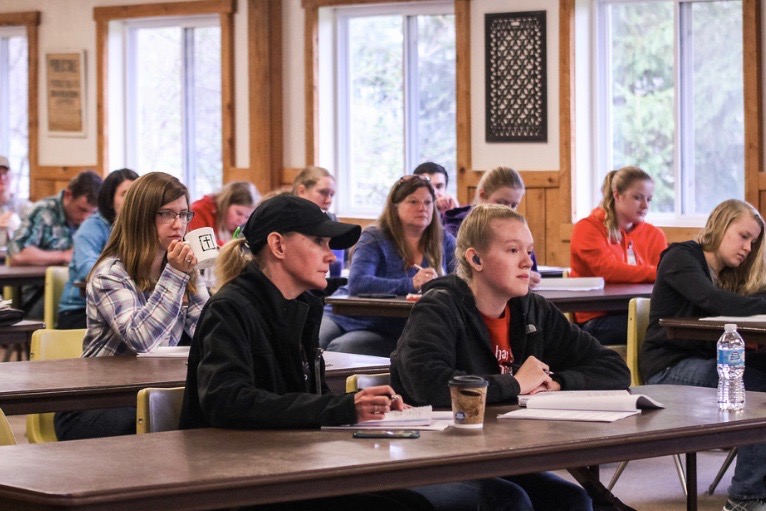 Frequently Asked Questions
Will we be riding at this event?
No, you will not be riding during this event. However, during one session there will be the opportunity for interacting with the horses during a learning challenge.
Will I be required to participate in the learning challenge?
No, you will not be required to participate in anything you do not wish to. We recognize that everyone has different learning styles and we trust you will participate at the level that is appropriate for you.
How should I dress?
Casual, comfortable or whatever makes you happy! The majority of the teaching on Saturday will be inside of a heated building. There will be one session in the barn on Saturday so please dress accordingly. The average high that time of year is 48 degrees with an average low at night of 29 degrees.
I have questions that involve training cues for my horse. Will those be covered?
The VIP ticket allows for specific time dedicated to horse training questions. If you are unsure if your question requires the VIP ticket or will be addressed during the Saturday event, please email Stacy at westfallhorsemanship@gmail.com.  In addition, if you are not completely satisfied with your experience at the event we will give you a full refund of your ticket price.
What if I'm not satisfied with the event?
It is our goal to have completely satisfied customers. If you are not sure if this event is for you, please email to ask your questions before booking. However, if you decide to come and are not fully satisfied we will offer a survey at the end of the day. Please report on that survey the reasons why you were not satisfied and we will give you a 100% refund on your ticket price.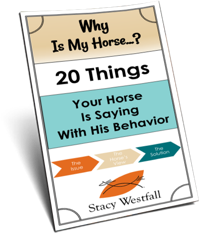 Free PDF Download "Why is my horse...20 things your horse is saying with his behavior"
PDF will be delivered to the email address you enter as will weekly tips from Stacy. Totally free. Unsubscribe anytime.