You did it! You signed up for MONTHLY!
First...a great big Thank you! That one click told me you want monthly emails. I totally understand wanting to limit the emails filling your inbox. I will do my best to make the ones you receive full of valuable content for you!
Second...I look forward to hearing from YOU! 
That's right. I'm sending you content but I look forward to hearing from you. I want to know how I can best help you reach your goals...so tell me your goals...your hopes...your dreams...and why you haven't reached them yet. Tell me your struggles and challenge me to help you find a way to reach them.      
I see and respond to most of the comments here on this website. I read all of the emails that come through but at this point I cannot always email each individual. I do however use the questions you send or the topics you ask about when I am creating my next podcasts, videos and blogs.        
If you... have a subject you want to hear more about, please email me at westfallhorsemanship@gmail.com
I look forward to hearing from you. Until then,
Ride with Faith,
Stacy Westfall-wife, mother, horse-lover, mocha-latte drinker, Road to the Horse Champion, stall cleaner…
Are you on Facebook?  I am!  Join me at - www.facebook.com/Stacy-Westfall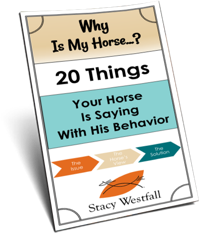 Free PDF Download "Why is my horse...20 things your horse is saying with his behavior"
PDF will be delivered to the email address you enter as will weekly tips from Stacy. Totally free. Unsubscribe anytime.